Road Reader Model 3430/3440 Moisture Density Gauge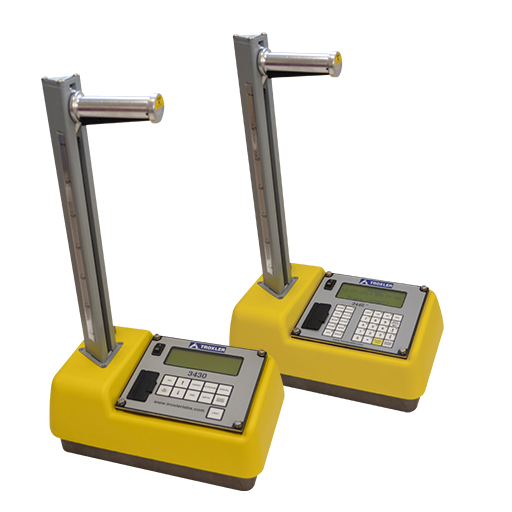 The Troxler nuclear moisture density gauges are used by many contractors, engineers, and highway departments for compaction control of soil aggregate, concrete, and full depth asphalt. The gauges meet or exceed the ASTM standards D6938, D2950, and C1040. The operator selects the density measurement mode, backscatter, or direct transmission based on the material type and the thickness of the layer being measured.
These updated gauges offer new standard features and many optional new features. The owner can customize the gauge to meet their testing needs.
The Model 3430 is the simplest and most economical gauge offered by Troxler. This gauge offers many features, including:
Improved operation and reliability with updated electronics

Fast recharge with NiMH batteries

Easier to read in all lighting situations with an enlarged backlit display screen – 8mm characters
Optional features for the Model 3430 include:
Remote start keypad near the handle

Alkaline batteries for backup use

External beeper

Software, keypad, and manual in Spanish and French

Data storage

USB port
The Model 3440 is for users who want user-friendly features. Along with the standard features provided in the Model 3430, the Model 3440 provides additional features including:
Automatic depth function

USB port for data transfer

Data storage (1000 readings)

Alkaline battery backup
Optional features offered for the Model 3440 include:
GPS location

Remote start keypad near the handle

Backlit keypad

External beeper

Software, keypad, and manual in Spanish and French
Both models offer:
Density measurement capability in backscatter or direct transmission mode

Moisture measurement in backscatter mode to allow quick, non-destructive testing of soil, asphalt and concrete materials

Direct readout of test results (wet density, dry density, moisture, % moisture, % voids, and % compaction)

Multiple count time options (15 seconds, 1 minute, 4 minutes)

User-friendly menus and keypads

Options of 12"/2", 12"/1" and 8"/2" depth measurement capability

18 month warranty
For information on the legacy 3430 and 3440 Gauges, refer to the Documents TAB.
Specifications
Measurement Specifications
Direct Transmission (150 mm)
.25 min
1 min
4 min
  Precision kg/m3 (pcf)
  ±6.8  (±0.42)
  ±3.4 (±0.21)
  ±1.7 (±0.11)
  Composition error (kg/m3)         (pcf)
  ±20.0  (±1.25)
  ±20.0  (±1.25)
  ±20.0  (±1.25)
  Surface error (kg/m3)
(100% Void)
  –17.0  (-1.25)
  –17.0  (-1.25)
  –17.0  (-1.25)
Backscatter (98%, 100 mm)
  Precision (kg/m3)                     (pcf)
  ±16.0  (±1.0)
  ±8.00   (±0.50)
  ±4.00  (±0.25)
  Composition error (kg/m3)     (pcf)
  ±40.0   (±2.50)
  ±40.0   (±2.50)
  ±40.0  (±2.50)
  Surface error (kg/m3)
(100% Void)  (pcf)
  -75.0   (-4.68)
  -75.0   (-4.68)
  -75.0  (-4.68)
  Surface error (kg/m3)
(100% Void)  (pcf)
  -75.0   (-4.68)
  -75.0   (-4.68)
  -75.0  (-4.68)
Moisture at 240 kg/m3
  Precision (kg/m3)                   (pcf)
  ±10.3  (±0.64)
  ±5.1  (±0.32)
  ±2.6   (±0.16)
  Surface error (kg/m3)
(1.25 mm, 100% void, kg/m3)       (pcf)
  -18.0   (-1.12)
  -18.0    (-1.12)
  -18.0  (-1.12)
Mechanical Specifications
  Gauge Size (including handles)
  12" – 23.5"x9"x14.5"
(59cm x 22.9cm x 36cm)
8" – 19.5" height (49.5cm)
  Shipping Case Size
  29.4" x 13.9" x 16.5"
(75cm x 35cm x 42cm)
  Shipping Weight
  83lbs (37.6kg)
  Weight
  31lbs (14.1kg)
  Operating Temperature
  32º to 122º F  (0º to 50º C)
  Surface
  350°F (175°C) for 15 minutes
  Storage Temperature
  0º to 140º F  (-18º to +60º C)
Radiological Specifications
| | |
| --- | --- |
|   Gamma Source |   0.30 GBq (8mCi) ± 10% Cs-137 |
|   Neutron Source |   1.48 GBq (40mCi) ± 10% Am-241:Be |
|   Source Housing |   Stainless steel, encapsulated |
|   Surface Dose Rate |   (5cm) 19 mrem/hr maximum, neutron and gamma |
|   Shipping Case |   DOT 7A, Type A, Yellow II label, TI=0.3 |
Electrical Specifications
  Main Power Source
  5C NiMH (Rechargeable Pack)
  Backup Power Source
  5 AA Alkaline Batteries – 3440
Optional – 3430
  Stored Power
  4 Ampere hours
  Battery Recharge Time
  3 hours maximum, auto cutoff
  Charge Source
  110/220 VAC, 50 or 60 Hz or 12-14 VDC
  Current Consumption Average
  35 mA
  Time Before Auto Shutdown
  5 hours of inactivity
  Readout
  4 x 20 Alphanumeric
  Keypad
  30 key sealed membrane – 3440
10 key sealed membrane – 3430
Options
Model 3430 Options:
Remote start keypad near the handle
External Beeper
Data Storage (100 readings)
USB port for data transfer
Alkaline battery backup feature
Spanish and French language options
Model 3440 Options:
Remote start keypad on the handle
External beeper
Backlit keypad for low light conditions
GPS locations for measurements
Spanish and French language options